Hello guys,
I hope you all are doing great. So today I am going to review Moroccan Argan Oil Shampoo and Conditioner from Satthwa. When you are looking for a Shampoo or Conditioner, choose according to your hair type. Look at the ingredients that are written at the back of the bottle. Ingredients are always written form maximum to the minimum amount that are in the products.
About Brand:
Satthwa means 'pure' in Sanskrit. Satthwa is a organic skincare and hair care brand which believes in "pure to the core" and all their products are made from Grade A pure ingredients without the use of harmful chemicals.
Product Description: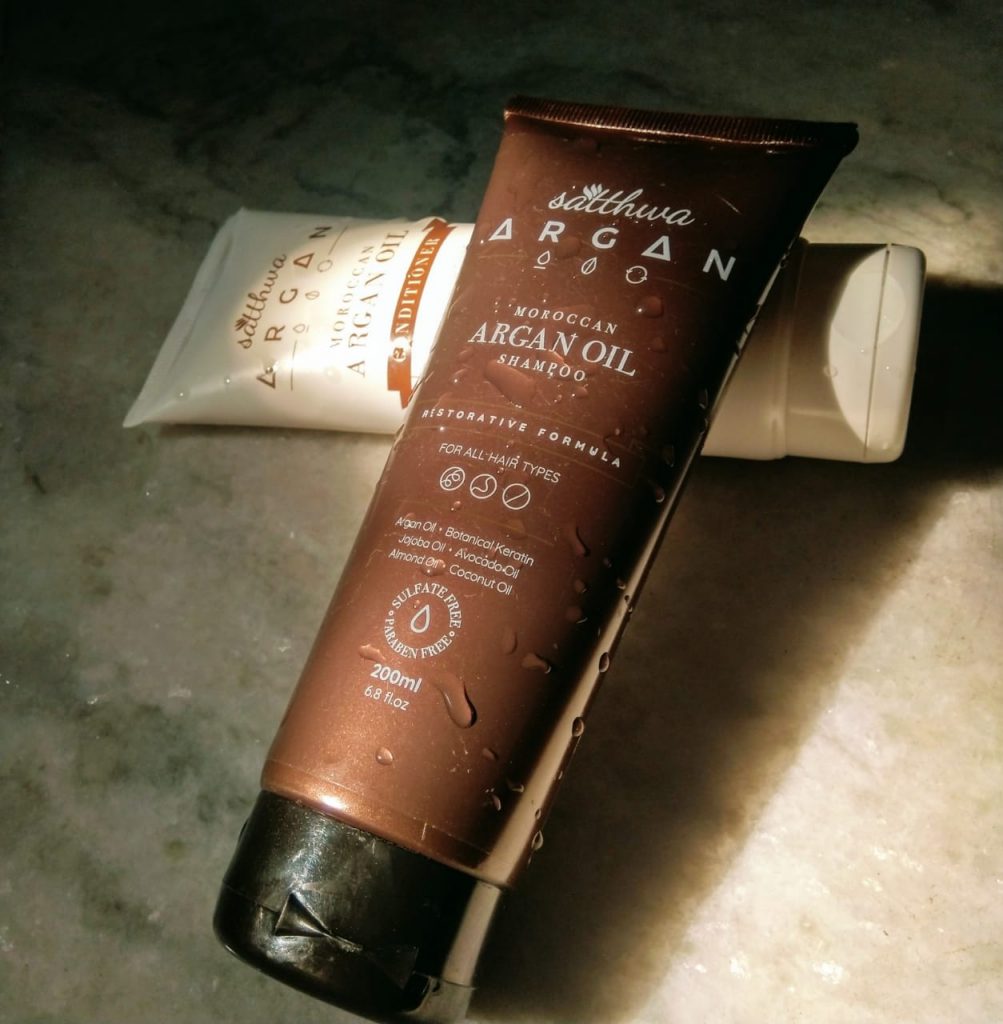 Satthwa Moroccan Argan Oil Shampoo and Conditioner is a 'Restorative Formula', that is a combination of numbers of 'awesome ingredients', infused with nourishing oils like Argan oil, Jojoba oil, Avocado oil, Almond oil, Coconut oil and Botanical Keratin. Together all these oils nourish your scalp and hair to give you healthy and beautiful hairs and where as Conditioner moisturizes your hair strands and brings out life in them.
Ingredients:
Shampoo:
Aqua, Argania Spinosa (Argan Oil), Avocado Oil, Jojoba Oil, Botanical Keratin, Almond Oil, Coconut Oil, Lauryl Glucoside, Coco Glucoside, Decyl Glucoside, Cocamidopropyl Betaine, Glycerine, Alo Vera Gel, Hibiscus Rosa-Sinensis (Hibiscus Oil), Azadirachta Indica (Neem Extract), Polyquart-10, Phenoxyethanol, Caprylyl Glycol, Sodium Phytate, Xanthan Gum & Natural Fragrance.
Conditioner:
Active Ingredients: Almond, Argan, Jojoba, Grapeseed & Saxifraga Flower Oils, Bhringraj Extract, Vitamin E, Sunflower Oil, Neem Oil, Lemon OIl, Rosemary and Tea Tree Essential Oils, Lavender, Mulberry, Witch Hazel & Vetiver Grass Extract.
Key Ingredients: Demineralised Water (Aqua), Polyquaternium-22, Ethylenediaminetetraacetic Acid, Glycerin, Behentrimonium Chloride, Ceto Cetyl Alcohol, Cetyl Alcohol, Guar Hydroxypropyltrimonium Chloride, D-Panthenol, Vitamin E, Sodium PCA & Phenoxy Ethanol.
Price:
Shampoo: Rs. 499/- for 200ml
Conditioner: Rs. 525 for 200ml
Shelf life:
24 months from the date of manufacturing.
Packaging:
The Moroccan Argan Oil Shampoo and Conditioner comes in a plastic tube packaging with flip cap like other ones but it is has so classy and premium look as it is also from the premium range, and its is quite convenient to use and travel-friendly as well. The sturdy cap prevents any sort of leakage. Ideal for traveling and regular use.
Texture:
Shampoo: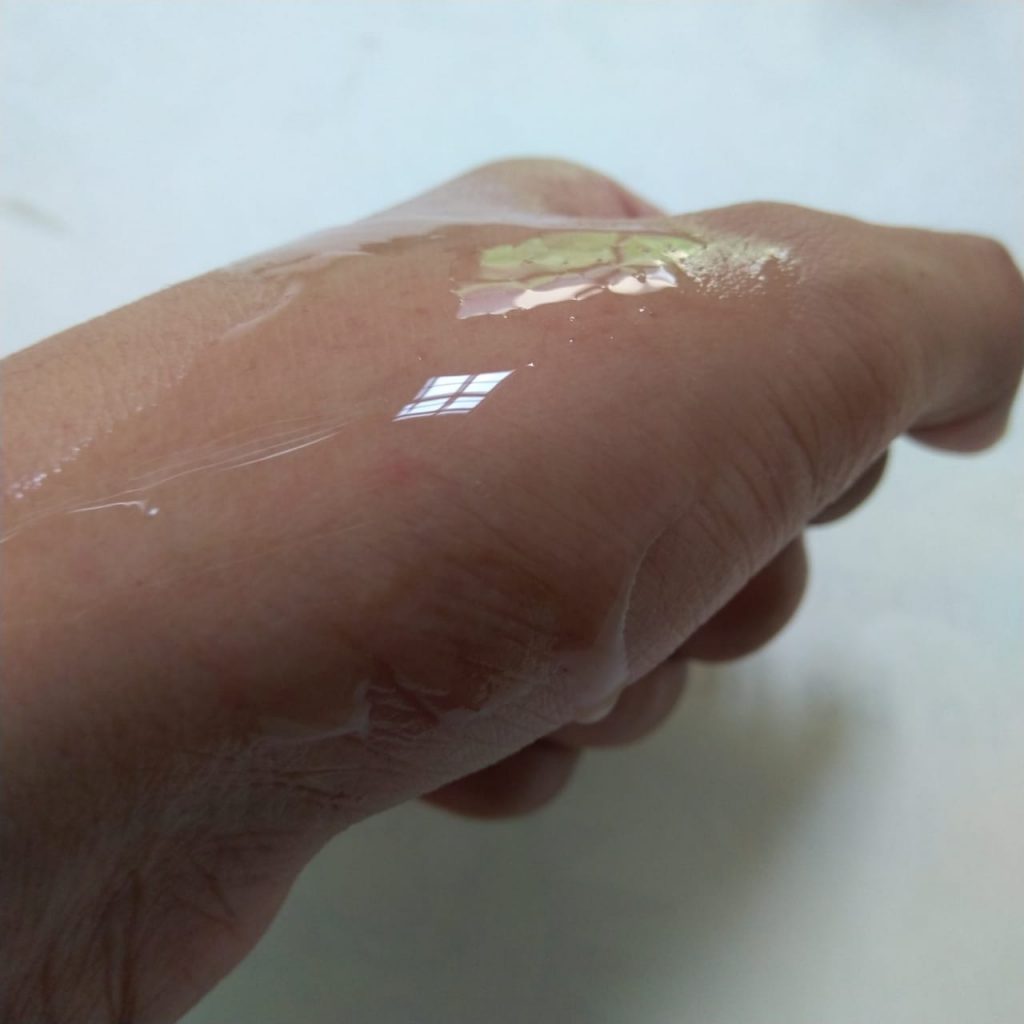 The consistency/texture of Satthwa Moroccan Argan Oil Shampoo is of runny consistency (may be because of oil presents in it) and pearly white in colour. Though it does not lather much but does its job really well. It is extremely gentle on scalp and hydrates it well.
Conditioner:
The consistency of Satthwa Moroccan Argan Oil Conditioner is of is thick and its is white in colour. It really softern your hairs and gives a shine look.
Fragrance:
Both shampoo and conditioner has such a soothing smell, sort of herbal smell but don't worry it will not gonna bother you.
Suitable:
It is suitable for all hair type I have oily scalp and dry ends and this works best for me. In fact, after wash it will give you a fresh feel and little mint sensation.
My Experience:
I really love the fact that it has all natural ingredients but at first sight I was bit confused that it will gonna work or not because of the consistency of the shampoo and also I am using any herbal products for the very first time. I have used these products for more than 3 weeks and it really suits me well and I am so impressed with the overall result. I have a bit of oily scalp and dry ends but after using this duo my hairs was not rough or lifeless at all. I find it completely suitable on my wavy hairs and the goodness of oils never makes it tangled.
Pros:
Sulfate, SLS and Paraben free (in short chemical free)
Blend with powerful natural oils
Cleanses and hydrates hairs and scalp effectively
Doesn't dry out the hair and scalp as well
Makes hairs soft, smooth and manageable
Nice sturdy and classy packaging
Suitable for all hair types
Keeps frizz at bay
No artificial fragrance
Cons:
Available only online
Quite high price
Rating: 4/5
Availability:
You can by this duo directly from Satthwa website or from Amazon. These products are not available offline.
Conclusion (Would I recommend this?):
Satthwa Moroccan Argan Oil Shampoo and Conditioner is one of the best natural or herbal shampoo and conditioner. If you are searching for a good chemical-free and natural shampoo and conditioner duo, then go for it. In fact, if you want to make your hair look healthier and more manageable, then this shampoo is for you. But yes it is a bit on the expensive side because according to quality the cost worth it, so we cannot deny the fact that the both duo work great and has ingredients which your hair is going to love.